CDBIA March General Membership Meeting with special guest Steve Dionisio, Superintendent of Charlotte County Public Schools
Tuesday, March 2, 2021 (5:00 PM - 8:00 PM) (EST)
Description
Join us for the March General Membership Meeting
CDBIA March General Membership
Date: March 2nd, 2021
Time: 5pm-8pm
Location: Twisted Fork
Price is $40.00. but if you register before February 26th, pay only $30.00.
The evening will consist of:
5:00-6:00 networking

6:00-6:30 dinner

We are excited that Superintendent of Charlotte County Public Schools Steve Dionisio will be our guest speaker this month, presenting the State of the District.

Updates about the CDBIA

Progressive Pot: $250
Twisted Fork will have a cash bar.
Make sure you are logged in to get your savings!
To register online, visit: https://charlottedesotobia.growthzoneapp.com/ap/Events/Register/4pV4KZvL
Important information:
The CDBIA is a respectful organization. We know that our members will adhere to all CDC guidelines. We thank you in advance for honoring people's wishes.
If you see someone wearing a mask, thank them for keeping everyone safe. If you see someone without a mask, thank them from 6' away and be safe.
We are excited to add bracelets, sponsored by Array of Cabinets & DR Horton that will let everyone know your networking style:
Red- I am keeping my distance
Yellow- I am okay with talking but no touching
Green-I am okay with high fives and handshakes
By attending a CDBIA meeting, you are agreeing to the COVID Policy found here: https://cdbia.com/wp-content/uploads/2020/08/COVID-Warning-Policy.pdf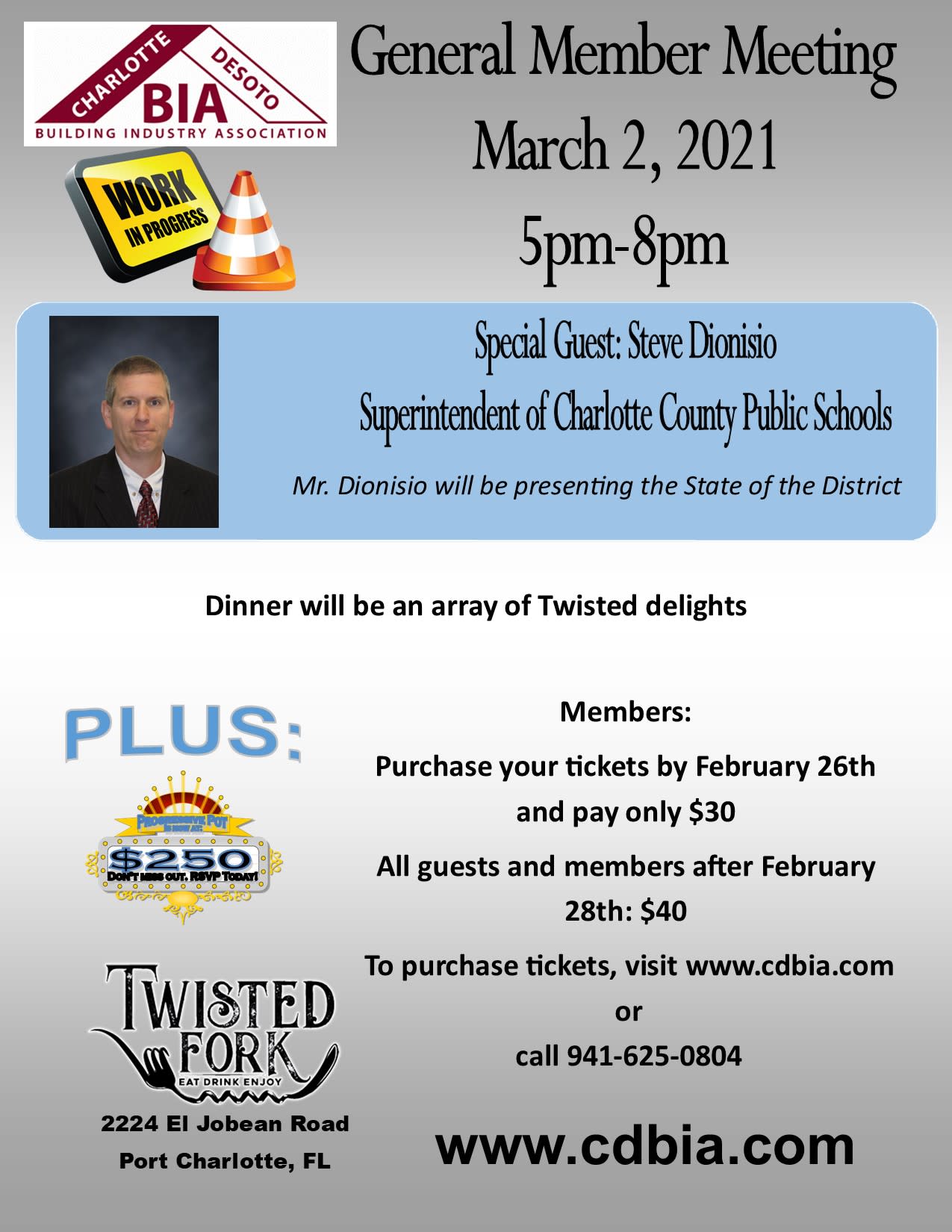 Images
Event Contact
Alaina Dumas
Tuesday, March 2, 2021 (5:00 PM - 8:00 PM) (EST)
BUILD!


Member Search
Find a professional quickly / easily.

Join Association
Become a part of the CDBIA family

Event Registration
Register for an upcoming event online.