Meet & Tweet (CDBIA Young Building Professionals)
321 W Retta Esplanade
Punta Gorda
,
FL
33950
United States
Carmelo's Italian Ristorante

Monday, September 16, 2019 (5:00 PM - 8:00 PM) (EDT)
Meet & Tweet- Let's meet up and network, socially!
Members– We welcome you to join us (or pass the invitation on to your next generation leaders in your company to join us! All CDBIA Members and young building professional leaders that work for members are invited to join us for networking like you have never seen before!
When: Monday September 16th, 5:30–when the fun stops
Location: Carmelo's Italian Ristorante
What you will need? Your tablet or smartphone and get ready to post!
What you will do? Join the fun. Come and meet likeminded young building professionals. Snap a picture of a member, or a business card and share information on your social media about each person you meet using the hashtag #CDBIAYBP, tagging the CDBIA.
Come & Network– there will be great prizes!
While you are at Carmelo's, please enjoy their full bar and fabulous menu (you pay for what you eat and drink)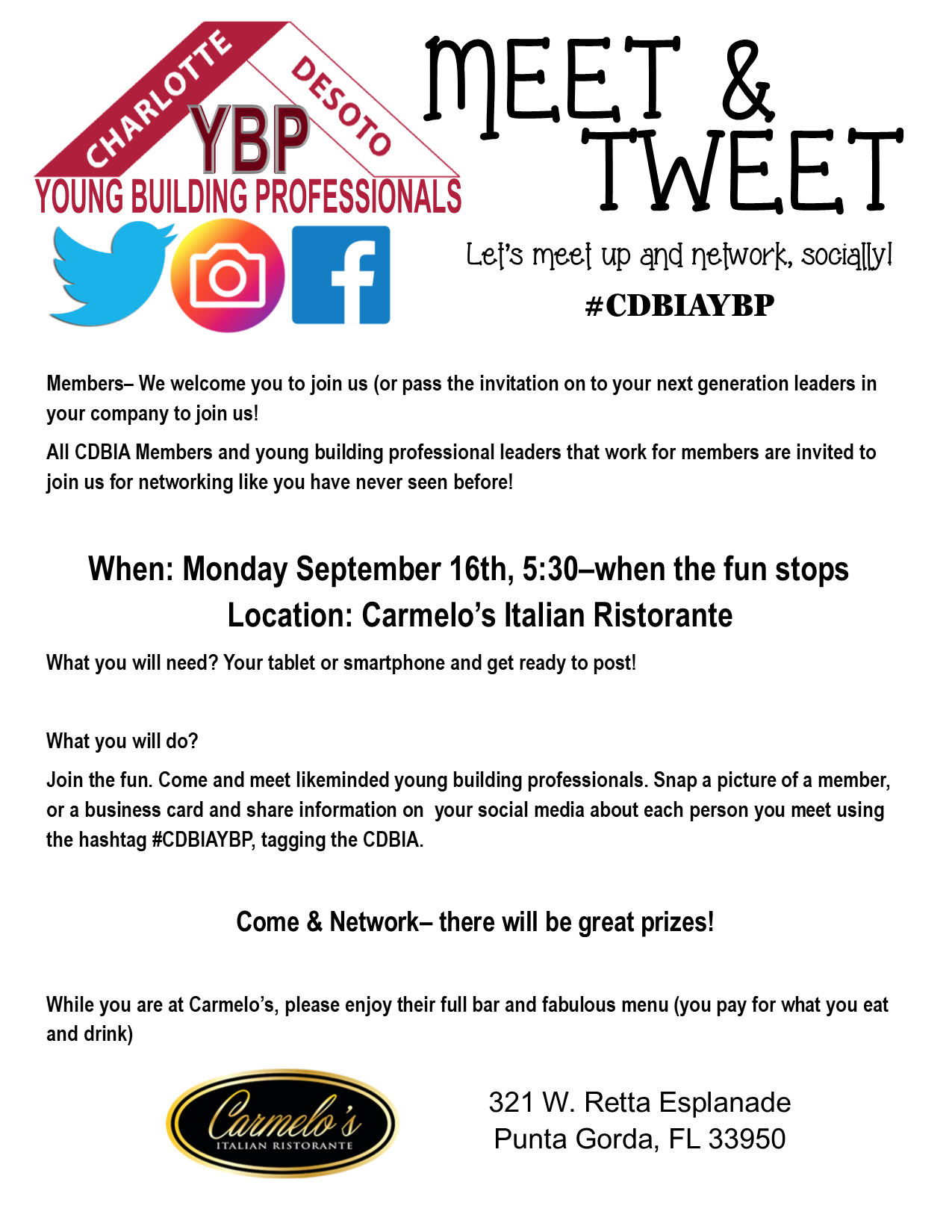 Gallery
Registered Guests(4)
Krystal Allen
Nikki Davis
Tina Figliuolo
Stacy Lowery
Event Contact:
Donna Barrett
Contact Organization:
Charlotte DeSoto Building Industry Association | CDBIA
BUILD!


Member Search
Find a professional quickly / easily.

Join Association
Become a part of the CDBIA family

Event Registration
Register for an upcoming event online.