CDBIA October GMM: Bring a friend for FREE, Membership 101 with the Next Gen on the Grill
3320 Loveland Blvd.
Port Charlotte
,
FL
33980
United States
PGPCNP Association of Realtors

Tuesday, October 5, 2021 (5:00 PM - 8:00 PM) (EDT)
Brats, Building and Beer!
Date: October 5, 2021
Time: 5pm-8pm
Location: PGPCNP DeSoto Association of Realtors 3320 Loveland Blvd. Port Charlotte, FL 33980
Get ready for a night of networking as we celebrate Oktoberfest, the building industry way!
Our next generation of grillers will be back to prepare a feast for you!
On the grill we will have:


TJ Thornberry (Thornberry Custom Builders)
Matt Mappes (Gant Electric)
John Carlson (Wharton-Smith)
Logan Degross (Quality Homes of Port Charlotte)
With help from Kenny Mappes (Gant Electric)
& Tom Thornberry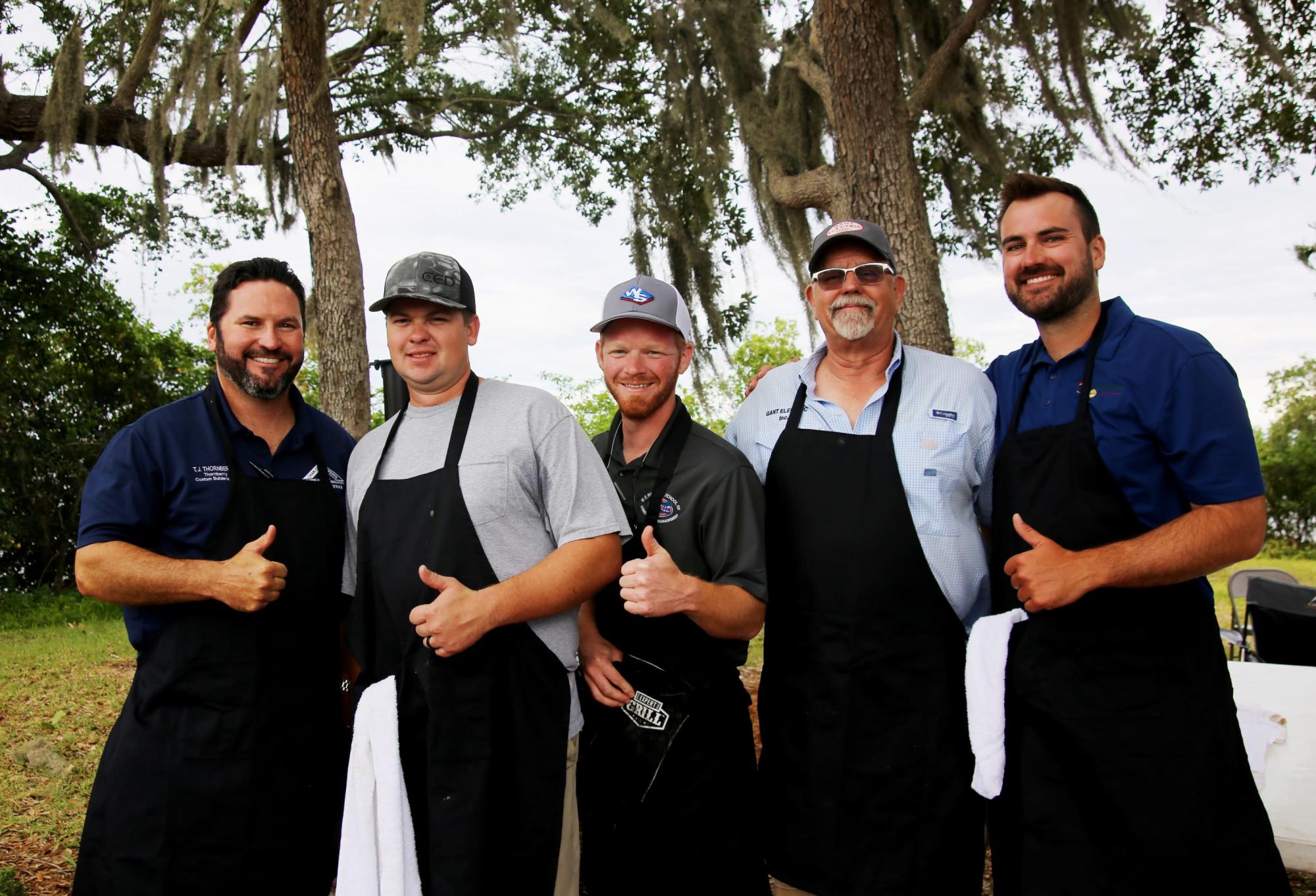 Bring a friend for free!
Do you have a friend or a business partner in the building industry that you would like to introduce them to your CDBIA family? Bring them to the CDBIA GMM on October 5th at no charge*
Cost is $30, includes 2 tickets and 2 drink tickets each.
*To receive a free friend pass, member must register themselves and guest by October 1st . After October 1st the charge is $35 per person.
BONUS!
If your guest becomes a member of the CDBIA at the October GMM, both member and a new member will be entered into a raffle for a free pass to all GMMs for 2021!
Please register by October 1st to be entered into the drawing.
Membership 101
Do you know all the deals, savings and assistance your membership offers you? At this meeting, we will be reviewing many of the ways your CDBIA membership can assist you with your business.
Learn more about savings, contracts available to you and ways the CDBIA helps with advocacy.
Register today at https://charlottedesotobia.growthzoneapp.com/ap/Events/Register/aPoE8n1r?mode=Attendee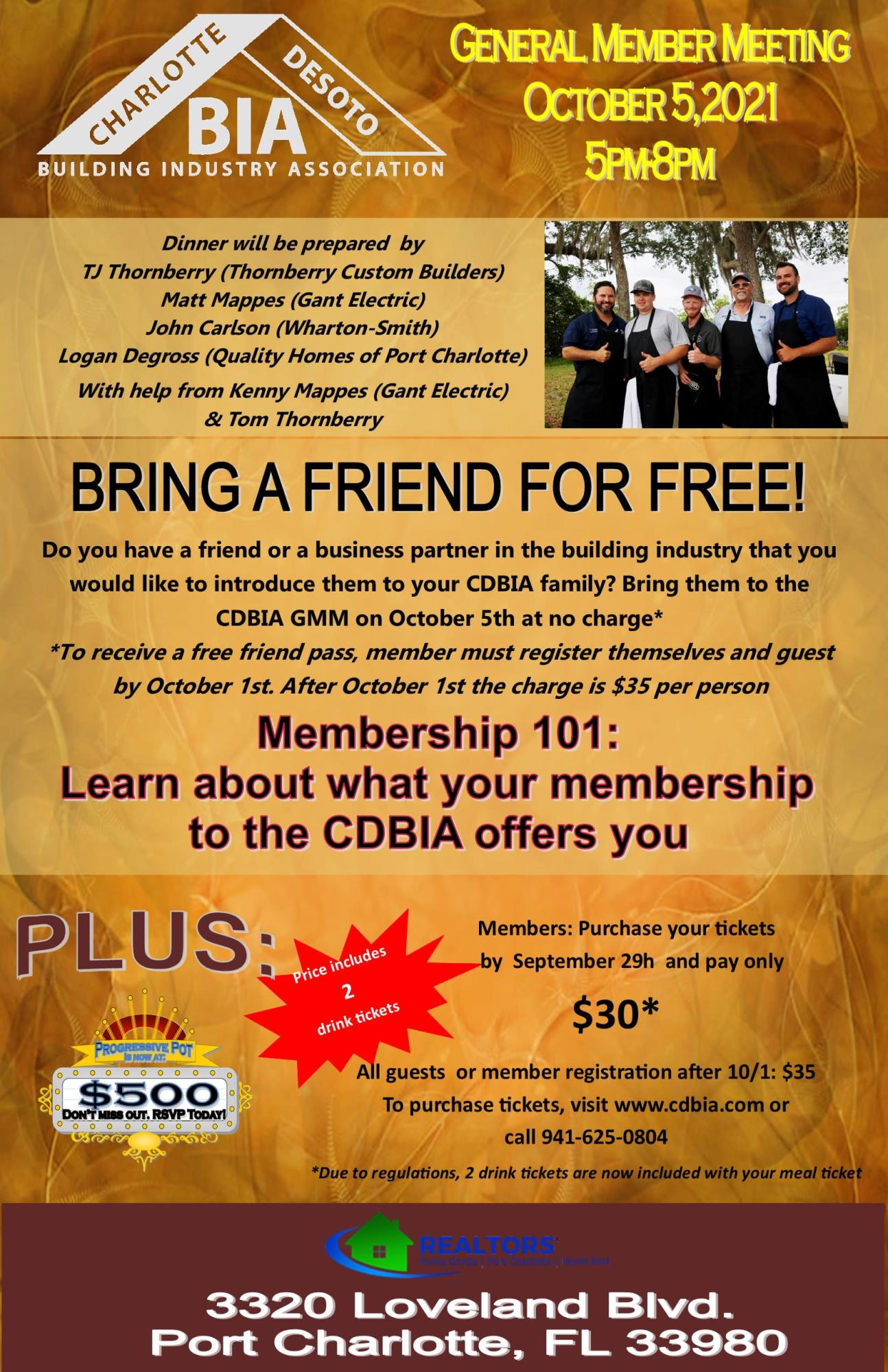 Gallery
Registered Guests(76)
Justin Allbright
Krystal Allen
Larry Bagiardi
Ben Bailey
Andrew Barco
Jacqueline Benjamin
Samuel Burnley
Keith Callaghan
John Carlson
Dani Close
Robert Close
James Coalwell
Justin Davis
Nikki Davis
Paul Davis
Paul Davis
logan Degross
Stephen R. Deutsch
Jennifer Donovan
Jennifer Donovan-Uebelacker
Colleen Ferrara
Kevin Graham
Billy Hambleton
Chris Hege
Deanna Heminger
Lisa Hemling
Rob Hemling
Crystal Henderson
Caryn Huff-Sufferling
BJ Jones
Mike Juaire
Jonathan Kapper
Kay Keller
Kathy Kemeny
Mark Kemeny
Brian Krohn
Pamela LaSarre
Barbara Lisby
Eric Loche
Michael Longo
Stacy Lowery
Kenny Mappes
Matthew Mappes
Melanie Markel
John Michailidis
Buddy Miller
Buddy Miller
Benny Mills
Erin Mullen-Travis
Glen Nickerson
Tyler Patak, NCARB, AIA
William Paul
Lucienne Pears
Christi Pritchett
Christi Pritchett
Kris Proudfoot
Kris Proudfoot
Maddisyn Rees
Reserved Attendee 2
Adam Riley
Karen Rogers
Lorina Rosetti
David Roth
Sam Sanders
John Sippel
Jackie Thornberry
Tom Thornberry
LEO TIERNEY
Bill Truex
Chris Tsourakis
Miranda Tuthill
Traci Watson
Kim Weger
Danielle Whitman
Robin Williamson
Nicholas Worden
Event Contact:
Alaina Dumas
Contact Organization:
Charlotte DeSoto Building Industry Association | CDBIA
BUILD!


Member Search
Find a professional quickly / easily.

Join Association
Become a part of the CDBIA family

Event Registration
Register for an upcoming event online.