CDBIA November Annual Meeting of the Membership GMM
2208 El Jobean Rd
Port Charlotte
,
FL
33948
United States
Tuesday, November 2, 2021 (5:00 PM - 8:00 PM) (EDT)
Join us for the November General Membership Meeting.
This is the Annual meeting of our members and the CDBIA.
Get updates on the CDBIA, building industry and supply chain PLUS network with many of our new members that joined this year!
You will be voting in the CDBIA 2022 Board of Directors plus meet the 2022 Senior Officers.
CDBIA November General Membership
Date: November 2nd, 2021
Time: 5pm-8pm
Location: Twisted Fork
Price is $40.00. but if you register before October 29th, pay only $30.00.
The evening will consist of:
5:00-6:00 networking

6:00-6:30 dinner

Updates about the CDBIA

Progressive Pot: $550
Twisted Fork will have a cash bar.
Make sure you are logged in to get your savings!
To register online, visit: https://charlottedesotobia.growthzoneapp.com/ap/Events/Register/WpMOvjlL?mode=Attendee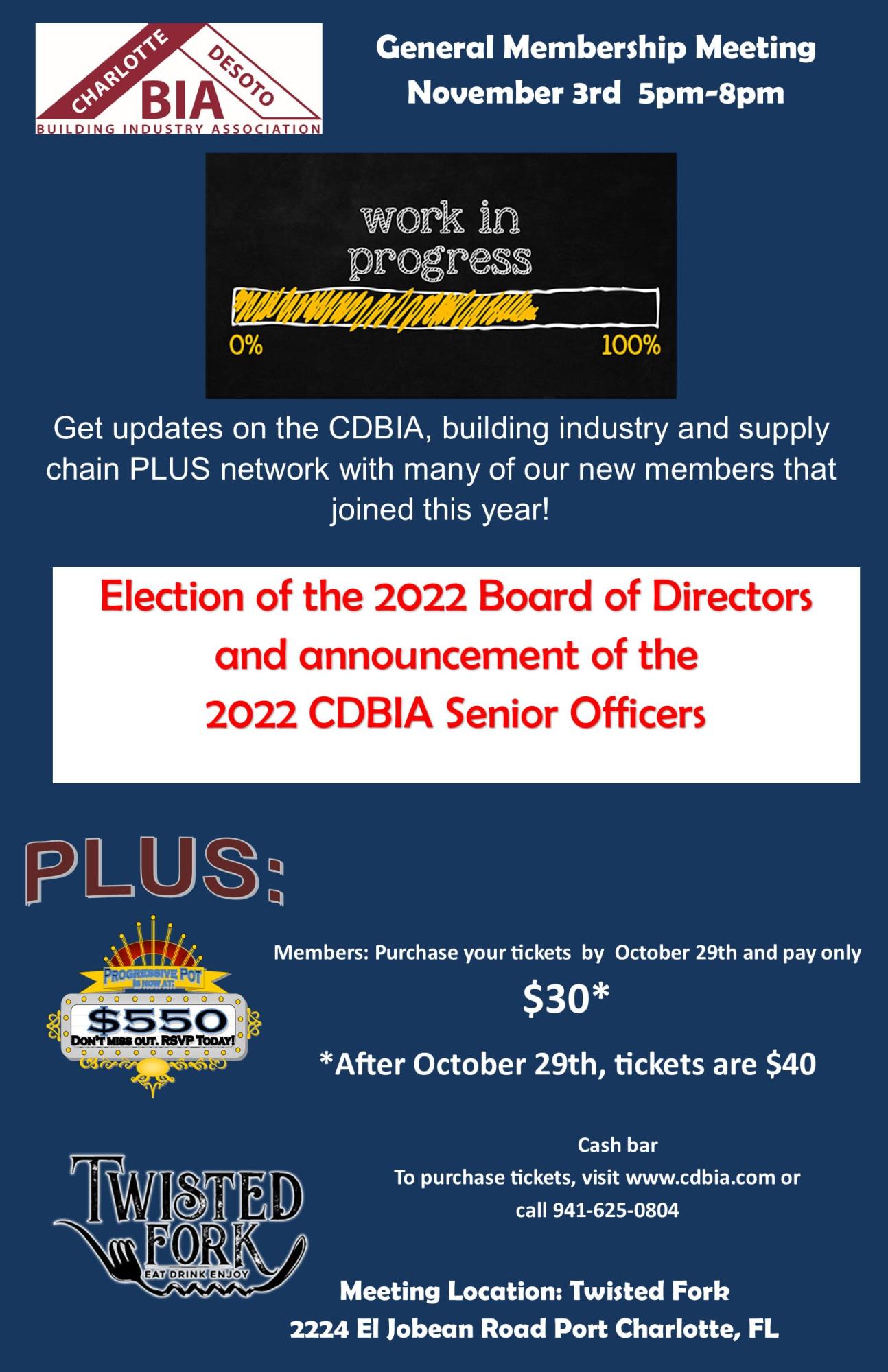 Gallery
Registered Guests(33)
Justin Allbright
Andrew Barco
Jacqueline Benjamin
Samuel Burnley
Anna Crapet
Hannah Crosby
Nikki Davis
Odette Embury
Colleen Ferrara
Michael Ferrara
Caryn Huff-Sufferling
BJ Jones
Jonathan Kapper
Rick Kelley
Karen Lancette
Rich Lancette
Pam LaSarre
Ron Likar
Robin Lindecamp
Alexia Martin
Miki Matrullo
Benny Mills
Kelley Munsell
Sharon Neuhofer
Christi Pritchett
Kris Proudfoot
Jayson Rider
David Roth
Jimi Smith
Cindy Tichy
Bill Truex
Kim Weger
James Weisberg
Event Contact:
Alaina Dumas
Contact Organization:
Charlotte DeSoto Building Industry Association | CDBIA
BUILD!


Member Search
Find a professional quickly / easily.

Join Association
Become a part of the CDBIA family

Event Registration
Register for an upcoming event online.