CDBIA General Membership Meeting sponsored by Red Wing Shoes
Tuesday, March 5, 2019 (5:00 PM - 8:00 PM)
Join us for a fun gathering of the CDBIA family for our March General Membership Meeting, which will be held at 24Twenty One Event Center

This will be an evening of networking, education and meeting the leaders of the building industry.

Special Guest: Charlotte County Assistant Administrator Travis Mortimer will be updating members on the projects 1% sales tax projects.
An Irish dinner of corned beef and all the fixin's will be prepared by: Luigi's Pizzeria & Restaurant
Sponsored by:
Date: March 5, 2019
Location: 24Twenty One Event Center


The evening will consist of:
5:00-6:00 networking
6:00-6:30 dinner
6:30 Sponsor Mark Wasmund, Red Wing Shoes
Guest speaker Travis Mortimer
Introduction of new members to the CDBIA family
Updates about the CDBIA
Door Prizes

At the end of the evening, one CDBIA member's name will be drawn to win the progressive pot. This month, the pot is at $150.00! If the member is present, they will win the pot. If not, we will add $50 to the pot and draw again next month.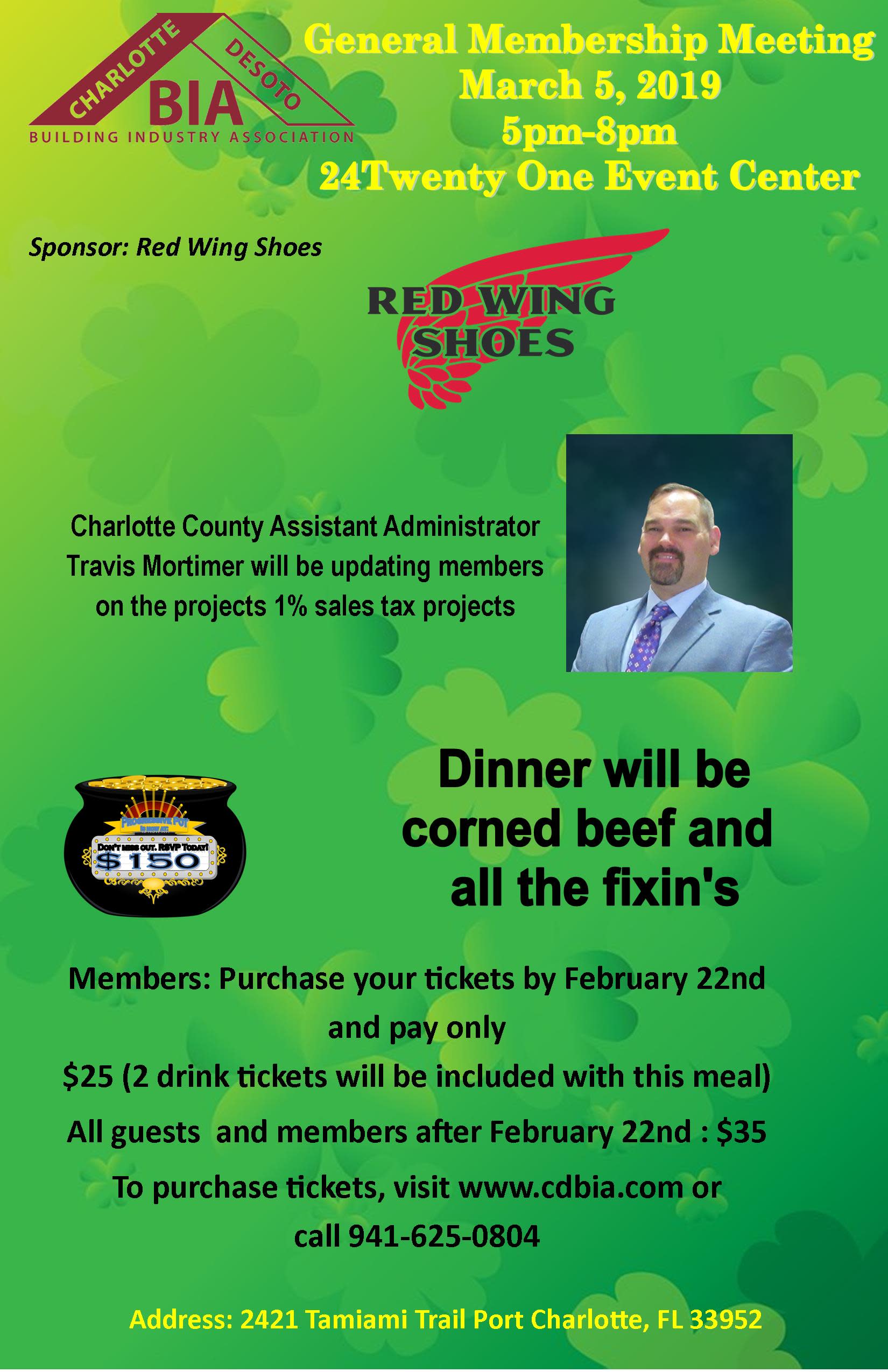 Gallery
Event Contact:
Donna Barrett
Contact Organization:
Charlotte DeSoto Building Industry Association
BUILDING UNITY IN THE COMMUNITY


Member Search
Find a professional quickly / easily.

Join Association
Become a part of the CDBIA family

Event Registration
Register for an upcoming event online.